Connie's Frozen Custard
12545 Jones Road
Houston doesn't have many custard joints. So when you're in the mood for a smooth, air-free custard, choices are few. Sonics and Dairy Queen will do in a pinch, but what if you want the real thing?
Head out the BFE and check out this yellow store front. Connie's claims to make custard every hour. There isn't any seating so hang out on the small lawn out front and let the custard melt down your cone as you try to beat the sun in taking down some deliciousness.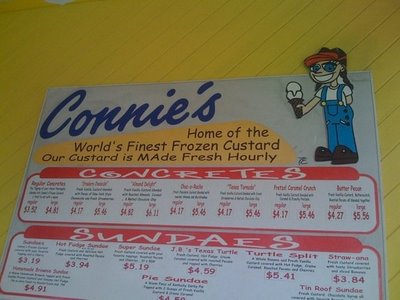 If you want to take some home, Connie's sells a cold hard hunk of custard that will last about an hour in an air-conditioned car. Custard isn't the same unless it's just above the temperature before it melts, so be forewarned...take-home custard won't taste as good.