Glass Wall
933 Studewood St
713.868.7930
A new restaurant in the Heights? Yes. A competitor to Shade? Yes. Alcohol? Yes. Should you go? Yes.
Chef Lance Fegen used to cook at Zulu. Now, in this interior-modern, neighborhood-friendly exterior restaurant, he displays his simplified food talents. Think of T'afia and their deconstructed food and combine it with strong flavors and you'll get an idea about what to expect.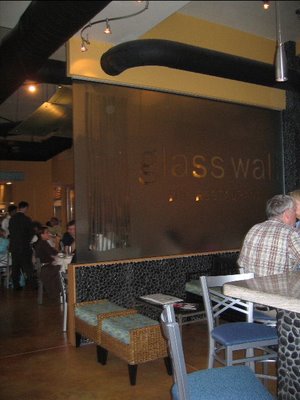 I had the flavorful slab of beef. Nothing super-complicated, but seasoned and pefectly cooked so that it tasted like a more expensive piece of meat. The food is good here. The wine list is impressive, if a bit expensive.
But what do I remember? The dessert. Try the rasberry/white chocolate bread pudding. This slice of goodness has the texture of pudding, the density of bread, and tastes like heaven. Combine it with the dark caramel jus that comes in the sake container, and you'll feel like you're eating a part of heaven's cloud smothered in the naughty goodness of the devil's elixer.