Heights Camphouse Bar-B-Q
2820 White Oak Dr
713.861.2033
Rumor has it that cops frequent this barbecue house. When we went, a cop was the only other customer. The restaurant has the feel of a run-down, small-town cafeteria. Almost like someone forgot to tell the owner that they need to make changes after 30 years of deterioration. The atmosphere here reminds me of Biba's, meaning there is no atmosphere.
We had the barbecue ribs and sausage. The ribs were spicy and tender. The sausage was very flavorful and quite good. We had a side of salad with what appears to be homemade and yummy ranch dressing. We also had their famous beans and don't know why they are famous.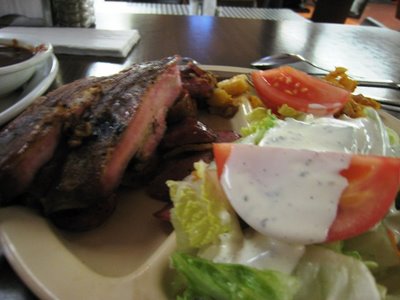 There isn't enough business at night to make such a run-down joint interesting to frequent at night, but the food is cheap and pretty good--so we'll come for take-out.