Napoli's Flying Pizza !
Some reviewers have called Napoli's Flying Pizza the best pizza place in town. I don't doubt the sincerity. I happen to like the place too, but I'm not going to call it the best pizza. There are too many subjective qualities for any pizza to have the label, "best."
Some people, like the four businessmen at the table next to ours, like the thick New York crust pizza. I don't like thick crusts. Some people prefer a lot of cheese. Me? I like a thin crispy crust even if it means a little bit of the burned flavor--so long as the herbs placed on top are fresh and not burned.
Napoli's has a good pizza; however, I won't drive 30 minutes for their pizza. There are just too many other good pizza places more near our house. I will, however, be back for Napoli's Zitti. It's a penne pasta in a deluge of mushroom marinara sauce mixed with a touch of alfredo or bechamel sauce. This sauce is good. the white sauce adds just enough body to balance the marinara's slightly acidic nature.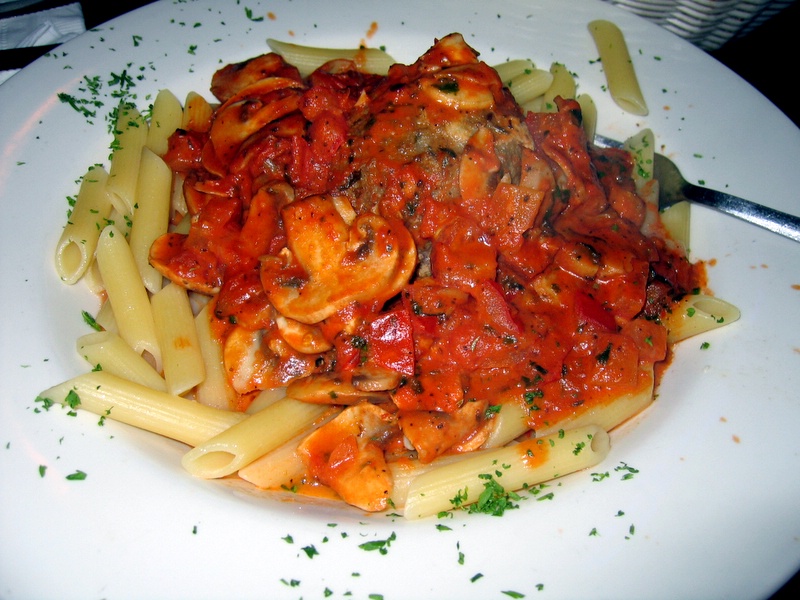 The only sore point in our visit was the meatball, a compacted mass of meat and bread crumbs. Completely tasteless and so compacted, I had to use a knife to slice the thing... that's right, not cut, but slice.