Buca di Beppo
We tried making reservations at Maggiano's for dinner, but the earliest reservation was 10:00 p.m.. So we skipped this family-style Italian restaurant and chose its less sophisticated competition,
Buca di Beppo
. As we learned from our loud and perfectly friendly waiter, the name means Joe's Basement. The restaurant has over 2500 interesting photos (including large nude women and baseball mug shots), no windows (mimicking a basement), and a very intimate friendly atmosphere. They advertise themselves as a bastion of immigrant Southern Italian cooking and the fake dust-filled flowers in the planters at the entrance to the restaurant speak to the pedigree.
We started with the small Hot Antipasto Platter. The small can accommodate 4 people, but not quite our 6. Fried mozarella, potato filled fried balls, and other goodies came in pairs on the plate. The slightly spicy and very salty marinara blended the tastes very effectively.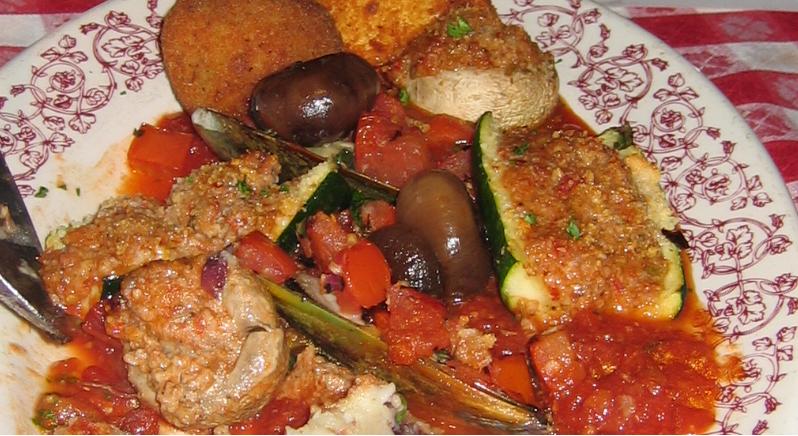 Next, we tried their small Di Beppo "1893" salad. This time the small provided just enough food, though I would have enjoyed more salami and cheese. I also wish I had remembered to dress the salad with the oil and vinegar.
We followed the bland salad (my fault completely) with the Chicken Cacciatore: seven pieces of chicken placed on a bed of country garlic mashed potatoes. The chicken was too salty. On the other hand, the mashed potatoes swam in butter and made our taste buds tingle with appreciation.
At some point during the chicken cacciatore (or what I'd like to think of as a mashed potato dish garnished with chicken), the thin crust spicy arrabbiata pizza came out. Soggy with oil and putrid with blue cheese, it couldn't compare to California Pizza Kitchen's Sicilian pizza. Fortunately, Buca di Beppo's square pie comes on a wooden plate placed on top of tomato cans: you can't beat the kitsch.
Finally, we ended the meal with not-homemade spumoni barely enough for 6. Though they served it appropriately--sliced and not scooped--the manufacturers (not Buca di Beppo) forgot to make sure that the different flavors could each hold their own in the 4-color symphony.
Overall, Buca di Beppo is trite, the service is inconsistent (but friendly), and the food is pedestrian. Still, I would go back in a heart-beat. Why? Because the way you eat lends itself to overly loud and engaging conversation. We haven't had such a nice dinner with my parents and two cousins in a long time. The conversation ranged from astrology to Manh's girlfriends. We laughed naturally and lingered long after the food disappeared. A dining room that can augment laughter will win my food dollars every time. Buca di Beppo accomplished that happy sound and will likely see me again--even with the fake flowers.