Bibas Greek Restaurant (One's a Meal)
607 W. Grey Street
713.523.0425
Bibas Greek Restaurant is old. The very worn, grey booths look like they should smell. They don't. The bar hasn't been use like it was intended in years. The few patrons there during dinner look like they want to smoke a cigarette but can't: One guy kept gnawing on a cigar. The man in front of us read his newspaper page by page, nursing his coffee.
The Spanish speaking little lady who took our order looks like she has become part of the old furniture of painted brick, stain-glass chandeliers, worn carpets, and lights with burned-out bulbs. It's the kind of place Bukowski would have frequented.
The restaurant is open 24-hours and may get busy from time-to-time. You seat yourself and the Greek, American and Italian menu arrive quickly. I ordered the gyros. The meat tasted a bit reheated and the tomatoes had the unmistakable tastelessness of a corporate farm. Despite these drawbacks, the gyro did have flavor and did satisfy a craving.
Rekha had the Greek chicken soup and Greek salad. As she said, it's not bad for chicken soup, but not a very good Greek chicken soup. The Greek salad tastes a lot like the one at Niko Niko with a less interesting dressing.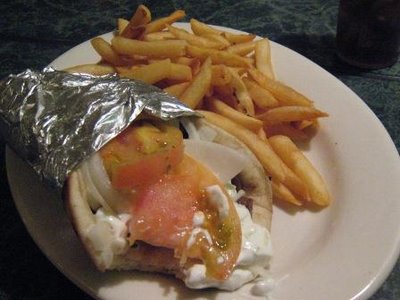 This place should satisfy a late-night craving--not a desire for a culinary experience. I won't come back for dinner, but will come back if asked by a friend and will come back when it's late and my belly growls.