Inversion Coffee House !
1953 Montrose Blvd
713.523.4866
Hurrryyyy!!! Come to
Inversion Coffee House
before the suburban yuppies find it. Located in the Art League of Houston's new building, this coffee house will surely grow to more locations in the coming years. The staff are friendly and the local clients bring a much needed boost of artistic inspiration to the coffee house scene.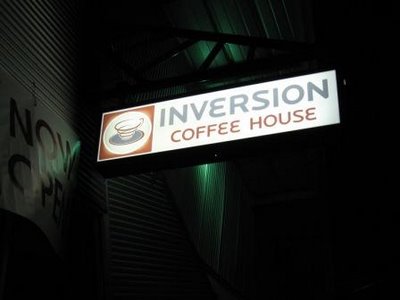 The coffee tastes like any other good coffee. It's good, but if you're stuck on the Starbucks flavors, you'll hate it. We happen to like the coffee here more than Starbucks. They also serve up cakes flown in from the East Coast and pastries from Kraftsman Bakery down the the road. If available, grab not one, but two red velvet cakes. Luscious, moist, not too sweet, balanced, red, creamy, delectable... I wish there were more adjectives.
Bask under the two-story ceilings and the lights that are left on too bright at night. Look through the reading material. Lounge under the television on the leather lounge. Make sure you get your frequent coffee buyer card stamp. Listen in on artists, architects, the unemployed, the fabulously rich, and yours truly talk to their significant other or confidant.
Independent coffee houses are few and far between in Houston. Go support this one.