1308 Cantina
1308 Montrose
713.807.8996
We walked over to John Paul's restaurant today. Formerly known as John Paul's Sabor, the restaurant is now called 1308 Cantina. Redecorated to look much more like a traditional restaurant Mexican, I prefer the new earth tones of this decor to the cold blue of the previous decor. What has not changed is the attentive service and the thoughtful menu.
I had three tacos for under $10. It doesn't sound like a bargain until you see the plate that can feed three people. I'm usually partial to beef tacos, but in this case, the chicken taco tasted better than the beef. Moist hunks of chicken sit inside a tasty tortilla (I had the soft tacos). The pork tasted a bit like dry chicken. The beef was the worst of the bunch. It tasted dry and over-drowned in maggi sauce.
Rekha had one of their combination platters. It came with a hard beef taco, paella rice, cheese enchilada with red chile sauce, and guacamole. The enchiladas has A LOT of cheese. The tacos were a little greasy. But overall, an ecceptable lunch for the price.
She also had the sangria that came nicely balanced, but a bit uninteresting. More interesting were all the margarita flavors they carry--they even had pomegranite the day we came.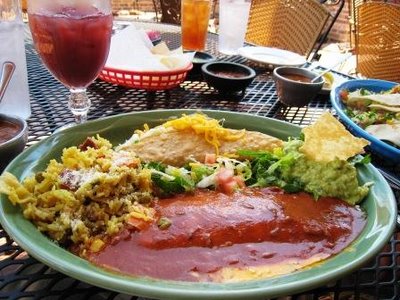 So why will I go back? Sitting in the patio area, watching the traffic go by as attentive staff kept our glasses full and our dining needs met were wonderful experiences for us--especially when most of the restaurants we go to these days have service you have to wave down like a taxi driver during rush hour in New York.