NOTES: Meditteranean Madness, Part 2
Last year we had a paella party. This year, about two weeks ago, we had another one. Rekha, in her usual splendid manner, made a cornocupia of tasty treats. This year, instead of using normal rice, she used paella rice, infused with that wonderful taste/smell of saffron. It made all the difference in the world.
UN-authentic Sangria:
Mix equal parts Three Thieves Red Wine ($12) and Central Market's blood orange Italian soda. Serve very cold with frozen fruit as ice. Picture of the finished product below--hidden in the dessert table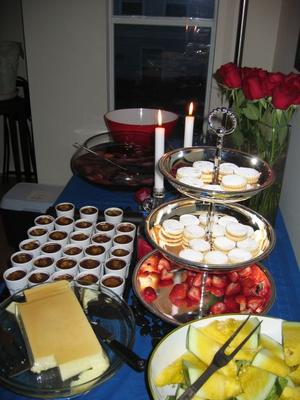 Here is the menu:
And the paella... MMMmmm... For those of you interested in how we made it, we seared all the meats first. Then we added the meat, saffron rice, and stock to the paella pan for about 45 minutes. We followed by placing the entire pan in the oven for about an 45 minutes covered.