Dhakshin Indian Restaurant
The first thing you notice about this restaurant is the location. It is waaaaaaayyy out there on Highway 249, west of Willobrook Mall, tucked into the Kroger's complex. The second thing you notice is the lack of Indian people eating here.
We went to
Dhakshin
for lunch Sunday and had their buffet. As with most Indian buffet's, dosa is available. In addition, they serve uthappam a rice pancake with a distinct fermented taste--much like idli. I think the uthappam's slightly sour and bitter taste comes from the fenugreek, a spice used in Asian cuisine. Then again, I can be totally off on this and they may not use any fenugreek to make their uthappam. Whatever the case, uthappam is an interesting replacement for dosa. it gives you a good dose of carbohydrates in a pancake like form. I still prefer the plain dosa.
Dhakshin also served a Chettinad pepper chicken that looks amazingly similar to buffalo wings, but has a more dry heat and a definite Indian spicing. Quite tasty. Other items of note include the the braised lamb (with bone). They spiced this lamb dish perfectly and let it simmer in the pot for a sufficient amount of time for the fat from the lamb to thoroughly tenderize the meat. Yummm...
What not to try? Don't eat the gulab jamun, a milk based brown ball drenched in sugar syrup. The version they serve at Dhakshin will turn you off from this fantastic dessert if you haven't tried the real thing. Check out what real gulab jamun should look like: this version was made by a wonderful Indian lady for us Saturday night.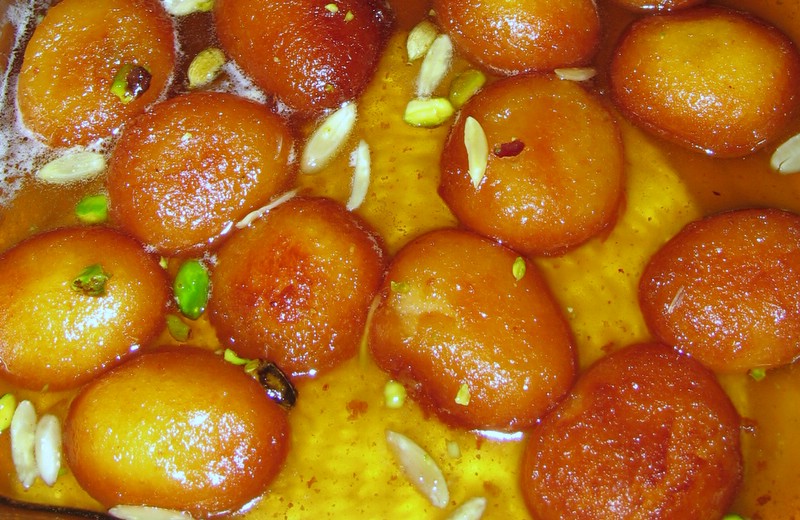 An interesting restaurant in a far away location. I won't go back anytime soon, but won't object to going if I'm on that side of the world and someone wants Indian food. But my question to them is: where is the Chettinad flavor? Rekha's grandpa told us real Chettinad food had a very spicy flavor. Did they dumb-down the spice for our American palates?